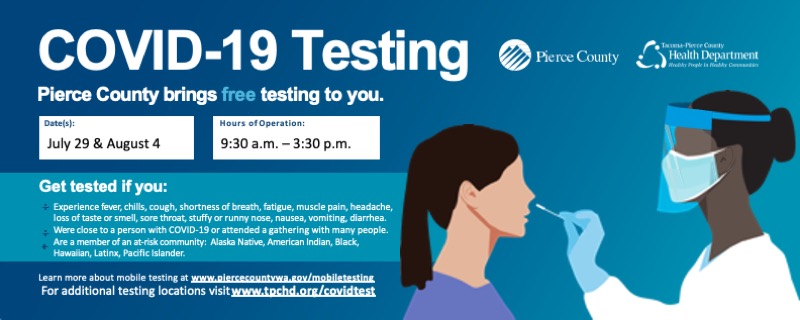 Two mobile testing trailers will be available to the community for COVID-19 testing. The testing is free.
Lakewood
Wednesday, July 29
9:30 a.m. – 3:30 p.m.
Station 21 – 5000 Steilacoom Blvd SW
University Place
Tuesday, August 4
9:30 a.m. – 3:30 p.m.
Vacant lot across the street from Station 31 – 3631 Drexler Drive W
FAQs
Is this drive through or walk-up testing?
This testing will be available both by walk-up or drive through. The maps below show the entry route as to not impact traffic on major roads surrounding the sites.
Do I need to make an appointment?
No, these sites will operate on a first-come, first-serve method.
Will people be required to wear masks and maintain social distancing?
Yes, people will need to wear masks and maintain 6 feet of separation if they are out of their vehicles. People who decide to do drive through testing may stay in their vehicles.
How much is the test?
The test is free.
Do people have to provide identification or insurance information?
No, ID is not required. Volunteers will ask for a phone number to contact people with the test results.
Who should get tested?
Everyone should get tested. People who believe they were exposed to someone who has COVID-19 should get tested. People who are experiencing symptoms related to COVID-19 should get tested.
What are the symptoms of COVID-19?
Fever or chills
Cough
Shortness of breath or difficulty breathing
Fatigue
Muscle or body aches
Headache
New loss of taste or smell
Sore throat
Congestion or runny nose
Nausea or vomiting
Diarrhea
Populations, listed below, are experiencing higher rates of COVID-19 and should get tested. This includes:
Individuals exposed to COVID-19 during an outbreak in a congregate setting (i.e. long-term care facility, shelter, correctional setting, agricultural worker, temporary housing, meat-packing plant, etc.)
Latinx, Native Hawaiian-Pacific Islanders, African Americans, American Indians and Alaska Natives.
People who have been in large-group settings
You should also get tested if you are in one of the below listed categories:
Women who are pregnant
All newborns born to parents who are suspected of hangin or who have testing positive for COVID-19
People undergoing procedures that increase the risk of aerosolized particle spread
People undergoing invasive surgical procedures (if possible, test within 48 hours of procedure)
What type of test is it?
It is a nasal swab. It is not painful, just uncomfortable for a moment.
How long will the results take?
The Health Department typically receives test results within 24-72 hours.
The Health Department will contact people with positive results as quick as possible and normally within 24 hours of receiving test results
People with negative results are normally contacted within 5 to 7 days of receiving test results
Results can take longer if there is a backlog at the testing laboratory or with contact tracing staff notifying people of their results. We contact people with positive results sooner than negative results.
Who delivers the results?
Dispatch Health, the medical provider conducting the testing, will deliver the test results.
How will you share the test results and with whom?
Patient privacy is important. Results will be shared with individuals taking the tests. The contact tracers don't share patient names.
Unaccompanied minors can be tested with parent or guardian consent.
For more information, please visit the Tacoma-Pierce County Health Department's website.