Frequently Asked Questions
APPLICATION QUESTIONS
Due to the unpredictable nature of COVID, test dates and/or phases are subject to change without notice. WPFR will communicate any changes as quickly as possible.
Are there application and/or testing fees?
No, we do not charge any application or testing fees.
*Websites requiring fees to view job postings and/or submit online applications are not affiliated with WPFR. Online applications are only accepted via our Employment webpage with a free Government Jobs account.
To apply as an entry-level Firefighter, is Emergency Medical Technician (EMT) certification required to apply?
No. WPFR provides recruits with an in-house EMT course, which results in certification upon successful completion.
Do I need a current Candidate Physical Abilities Test (CPAT) to apply?
No, CPAT is not required to apply. If you have not completed CPAT by the time job offers are made (in September), it will be a condition of employment. WPFR pays all costs associated with conditions (CPAT, medical exam, drug screening, psychological assessment, and background investigation). WPFR utilizes Public Safety Testing for CPAT if a condition of employment. Candidates with valid CPAT certification completed after October 1, 2021 will not need to test again. We accept CPAT certification from any testing agency, which provides CPAT in accordance with the International Association of Fire Fighters standards.
The job posting notes a background investigation includes criminal history and driving record review. Are there automatic disqualifiers for employment? 
We encourage candidates to review RCW 43.43.830 for information on background checks. Findings from a civil adjudication proceeding and/or convictions of crimes listed within the RCW are possible disqualifications. Records are reviewed on an individual basis as a condition of employment. Employees must have the ability to legally operate a vehicle in Washington State and are required to provide proof of a current/valid driver's license prior to hire date.
The application period has a closing date and maximum volume that will be accepted. When should I apply?
We are unable to predict how quickly applications will be received and encourage candidates to apply early. The application period will automatically close if the maximum is received, which may occur before the closing date.
I've submitted application(s) to West Pierce in the past. Do I have to submit a new application?
Yes, each hiring process has its own application requirements.
Are the essay questions required? Will my answers be scored?
You are required to answer the essay questions. Your responses will be evaluated and used in conjunction with the online examination to determine which candidates proceed to oral boards.
Can I submit my essay responses via email or as an attachment?
No. Your responses should be about a paragraph (200 words or less) for each question and typed directly into the textbox provided.
What attachments should I include with my online application?
Resume is required, cover letter and up to three (3) recommendation letters are optional. If applying as a lateral candidate, you are required to attach EMT, FF I, FF II and HazMat Ops certifications. Veterans may attach documentation per below.
*Please do not attach any other documents (i.e. driver's license, CPR card and/or additional training/certifications from those listed.)
What is required for veterans' preference? 
Please review the Washington State Careers webpage for veteran definitions and preference categories. Preference is added to final, passing (minimum of 70%) score. You must attach documentation (DD214, NGB form 22 or equivalent) to your online application if claiming preference.
What documentation is required for education?
You are not required to provide documentation of education to apply. If hired, we will advise of the process for requesting educational incentive.
If I have any/all the certifications listed for lateral entry, do I receive extra points in the testing process?
No. Applicants have the same testing process and scoring method whether entry-level or lateral.
Can I schedule a ride along after submitting an application? 
Based on volume of candidates, we are unable to accommodate ride along requests during the hiring process.
I want to revise my application but can't make changes in GovernmentJobs account. Do I need to submit another application?
No, submitting another application creates a duplicate record. Any changes can be sent via email to employment@westpierce.org.
Can I revise my essay responses?
No. The online application is an official record and GovernmentJobs does not permit changes after submittal. We do not accept essay responses via email.
I can't access my GovernmentJobs account. Can you reset my password?
For GovernmentJobs technical assistance, please call 855-524-5627. West Pierce personnel do not have the ability to reset passwords.
ONLINE EXAM QUESTIONS
Do I need to buy a study guide?
No, WPFR provides the official orientation guide and a practice test. There are no additional study materials to buy and/or review.
I'm having difficulty scheduling. Can I send an email with my date?
No, you must schedule from your GovernmentJobs account. For technical assistance, please call 855-524-5627.
What kind of questions can I expect?  
The online exam assesses reading ability and comprehension, mathematical reasoning, map reading, writing ability, human relations and reasoning skills. There is no material to study and memorize ahead of time, the examination will provide all content relative to the questions.
Can I take the online examination on a different date? 
No, the online examination is accessible for a 24-hour period (12:00 AM to 11:59 PM) on July 13 and July 16 only. Applicants will self-schedule for the date they want.
I missed my exam date, can I reschedule?
No. The test link is unique to your email address and the exam date you selected. It is not possible to reschedule and/or use the link on a different date.
I do not have a laptop, desktop computer and/or browser required for the online exam. Do you provide a written test I can take in person?  
We do not have the exam in written form. Please email employment@westpierce.org for possible options to access the required hardware/browser.
How do I request testing accommodation due to a disability?  
Please email employment@westpierce.org with the accommodation needed. *Do not email health and/or medical information.
How soon after the exam will I have my score?  
Generally, within 7-10 calendar days after the last exam date. An email will be sent once scores are available via your GovernmentJobs account.
Are my answers to the online application essay questions graded?
Your answers will be evaluated and used in conjunction with the online examination score to determine which candidates proceed to oral boards.
Am I able to review my exam to see which questions were missed?  
No, WPFR contracts with a third party for test administration and there is no review option.
I can't access and/or view my score. Can WPFR email it to me?
No. For GovernmentJobs technical assistance, please call 855-524-5627.
ORAL BOARD QUESTIONS
We anticipate notifying candidates selected for interviews by 5:00 PDT, July 27. You will self-schedule via your GovernmentJobs account.
I live out of state. What options are there if I'm selected for an interview? 
Video or phone interviews may be considered for those living out of the area and/or unable to travel.
I am unavailable and/or out of town during the interview dates listed. Are there alternative dates? 
Possible options may include video or phone interviews, if unable to attend in person. We are unable to accommodate alternative dates.
What can I expect during the interview process?
There will be a panel of WPFR personnel, comprised of 4-6 individuals. You will be asked general interview questions. The panel will have your application packet, including any attachments you submitted. You do not need to bring anything to your interview and the panel will not accept any documents (recommendation letters).
How soon after my interview will I know results?  
We anticipate advising candidates by 5:00 PDT, August 22.
Am I able to meet with panel member(s) to get feedback?  
No, but upon request, we will provide an overview of feedback via email.
CANDIDATE RECEPTION QUESTIONS
We anticipate notifying candidates selected to attend the reception by 5:00 PDT, August 22.
What is the Candidate Reception?
The reception is a social event where a broader group of WPFR employees meet and interact with candidates. Approximately 20 employees attend and will be tasked with scoring candidates upon conclusion.
How should I prepare for the Candidate Reception?
Candidates invited to the event will be provided information on what to expect.
What date is the Candidate Reception?
The reception will occur Thursday, September 8. Candidates invited to the event will receive details on date, time and location.
EMPLOYMENT OFFER QUESTIONS 
We anticipate conditional offers of employment will be made the week of September 12.
If I receive an employment offer, how are conditions scheduled?
All costs associated with employment conditions are paid by WPFR. The background investigation is an online process managed by WPFR. You are provided contact information to schedule the medical examination, psychological assessment and CPAT (if needed). Conditions must be successfully completed by 12:00 (noon) PDT, December 30 as the hire date is January 5, 2023. If you live out of the area, we will assist with scheduling conditions in a condensed timeframe and reimburse for travel.
Is COVID vaccination a requirement of employment?
Vaccination is not an employment requirement. Proclamation 21-14-1 requires firefighters licensed as an EMT or paramedic to provide their employer with proof of vaccination OR have an approved accommodation. WPFR has a process for requesting vaccination accommodations.
I already have a vaccination accommodation from my current employer.  Can it be used for an exemption at WPFR?
No.  A request for accommodation must be submitted through the process set forth by WPFR.
ENTRY-LEVEL TRAINING QUESTIONS
What type of training is provided for entry-level Firefighter?
Recruits will have two days of orientation upon hire. The schedule will be Monday-Friday during the 6-week EMT course.
Recruits will start Red Knights Fire Academy in February 2023. This 13-week fire academy consists of a Monday-Friday schedule and is a comprehensive, fire training program.  Recruits who successfully complete the fire academy will obtain IFSAC certifications in Firefighter I, Firefighter II, HazMat Awareness, and HazMat Operations.
After Red Knights Fire Academy, probationary Firefighters will complete a 5-week "mini-academy" where they will receive training in Rescue Systems I, pump operations, and other West Pierce specific operational training prior to being assigned to a shift to complete probation.
Upon successful completion of all the above, Probationary Firefighters will be assigned to a 24-hour shift schedule and a primary Field Training Officer (FTO). At this phase, they will be expected to function as a Firefighter/EMT and will begin completion of their probationary task book.  Probationary time on shift will take them through nearly all major fire suppression and EMS functions.  They will be evaluated by their FTOs during this time and complete a mid-term probationary exam (after ~35 shifts) and final probationary exam (after ~60-70 shifts).  Upon completion of the final probationary exam, Probationary Firefighters will officially have completed their probationary period.
What is the "24-hour shift" work schedule?
WPFR personnel have a "Modified Detroit 56" schedule, which is three 24-hour shifts (0800 to 0800) every nine days. Below is an example of the rotations. For the nine-day period of June 2-10, employees on A Shift (red) work June 2, 4 and 6.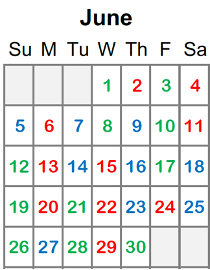 Employees assigned to 24-hour shift schedule receive 18 Kelly Days (K-Days) per full year of employment. K-Days are 24-hour blocks of paid time off, to reduce the average workweek to 47.72 hours/week annualized.