October 17, 2018
Community
Lakewood Resident Recognized for Assistance on Ketron Island Fire Incident

On Friday, August 10, 2018, West Pierce Fire & Rescue (WPFR) responded to a brush fire on Ketron Island, which was a result of a passenger plane that crash-landed on the south end of the island.
Mr. Ronald Sheckler is a Lakewood resident who has property on Ketron Island. The night of the incident, he was at home in Lakewood when he received calls from two other Ketron residents asking if he was on the island and if he could help. He immediately drove to the Steilacoom ferry dock, where due to the large response of fire and police, he could not board the ferry. Instead, a Ketron resident brought him to the island on a personal boat, where he made his way to WPFR crews.
Sheckler introduced himself to the WPFR Incident Commander and explained he not only had a vast working knowledge of the island's water system, he had a tractor. By the time Sheckler had located WPFR crews, firefighters had already determined how few working fire hydrants there were on the island. Sheckler, however, knew where the water tank was and brought firefighters to it to obtain a secure water supply. He then brought his tractor to an overgrown road and cleared the area to allow fire apparatus to make their way to the fire. Without Mr. Sheckler's help, firefighting operations would have been even more difficult, as this was a unique incident to begin with.
Mr. Sheckler was recognized by the Board of Fire Commissioners on Tuesday evening for his selfless acts with a Community Assistance Award.
"I was responding to my neighbors and my property, so really, it was just a normal thing for a soldier to do," Sheckler said during the meeting.
In return, he surprised Chief Sharp and the board with a shadow box with a cutout of Ketron Island and an antique fire engine toy as a thanks from the Ketron residents.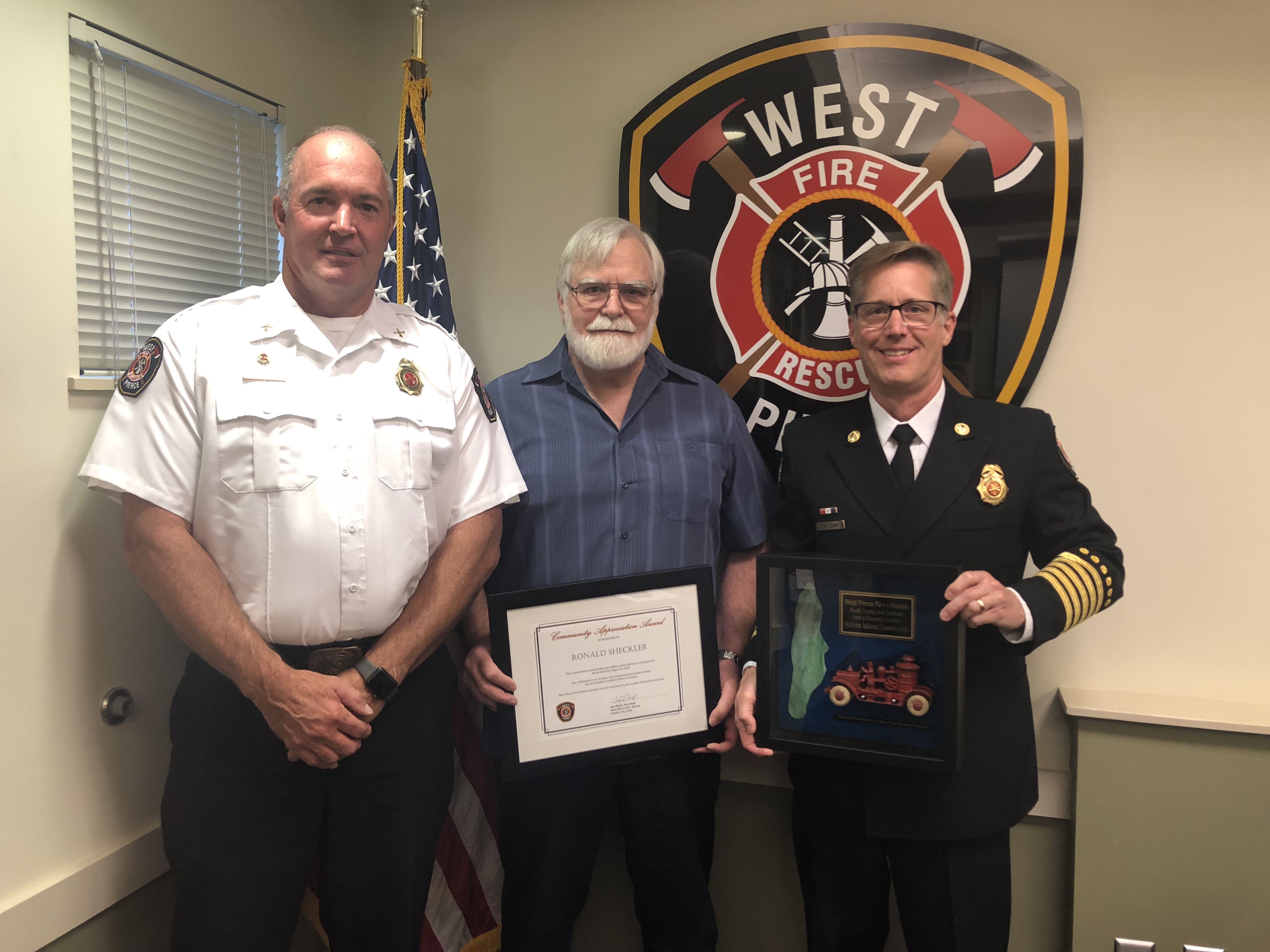 Back to News